Shanxi Xinda Technology Co., Ltd. is located at No. 149 Taifeng West Road, Wenxi County, Shanxi Province. It is China's first NEEQ-listed enterprise in the field of exporting mouth blown glassware, covering the space of 35,000 m2 and being founded on Dec. 22, 2000. It was merely a glassware workshop with over RMB100,000 of investment, a pot furnace and dozens of laid-off workers at the beginning of start-up. However, it has developed to county-level large-scale private joint-stock listed company and creative R&D council organization in the industry of China's glass at present.
  Our company has 18 million RMB of registered capital and over 50 million RMB of fixed assets, together with more than 10 million US Dollars of annual self-support export value and more than 5 million RMB of annual tax paid. The management and working staff composed of over 1,200 people sets up abundant professionals, holding on forever export earnings, building hi-end products and achieving large-scale production.
  We have three electric furnaces whose capacity are separately 6 tons, 10 tons and 12 tons, as well as two fixed environment protective pot furnaces, 5 continuous annealing kilns using natural gas, 3 whole electric decoration firing kilns and other major producing equipment that are more than 1,000 in all. We can provide the sites for creatively glassware R & D and testing. We can meet the testing and chemical experiment of the glass raw materials, accessory materials and other dangerous materials. We can also meet the producing requirements of the clear glass, full color glass, cased color glass and opal color glass; and have the different process conditions for the carving, decal, sandblasting, hand-painted, etc. We can produce wine sets, tea sets, vases, carafes, candleholders, lanterns, juice dispenser, cake dome; scientific research tubes, containers, special glasses; household glassware and accessories as kitchenwares, lighting and toys.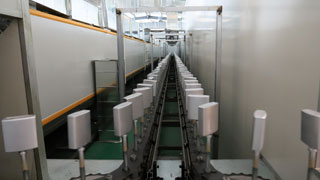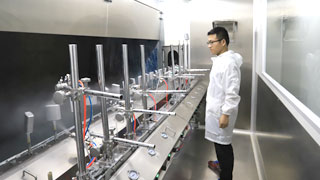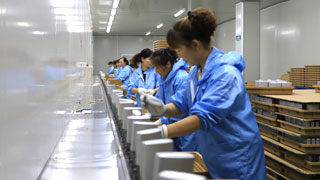 Our operating belief is to be honest and to behave ourselves. Our business operation is based on export products and domestic sales, along with Internet sales to set up an information platform for a broader sales channel. The sales markets of our products include around 1,000 cities in Asian, European and American more than 30 regions and countries.
  Our quality policy is "quality oriented, consummate technique, keeping promises, continuous improvement". Our quality objective is to make product qualified rate up to 90%, consumer satisfaction up to 100%. Our management principle is always "honesty oriented, qualify first and client initial". 6S site management procedures are put forward in the management of producing. Three system ratifications have been qualified in "quality, environment and occupational health safety management" in the management of the enterprise standard. The idea of "safety first" is forever held on and we have the certificate of "safe production standardization of three-level enterprise". "Wenbo" and "Xihuida" serial trademarks have been registered in the construction of brand.
  Our company has continuously innovated to develop for years "advanced enterprise", "advanced organization in keeping promises", "model organization in protecting environment" and "A-level tax reputation enterprise".
  Our company is dependent on the advantage of NEEQ to own new wings for enterprise capitals. Confronting new development opportunities, we will make strenuous efforts, keep stable pace, maintain continuous creation, strengthen marketing crisis mind, enhance classical brand and step sustainable development.